Hire A Veteran

January 11, 2018
[ad_1]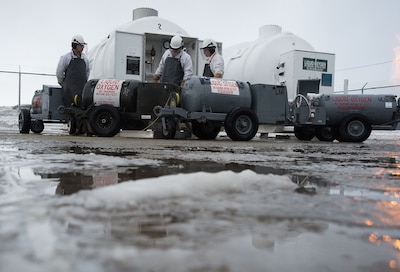 JOINT BASE ELMENDORF-RICHARDSON, Alaska — As a C-17 Globemaster III gains altitude, air pressure decreases, reducing the amount of oxygen in a pilot's blood. If unprepared, permanent damage to vital organs can happen within minutes. To prevent this, aircrew rely upon liquid oxygen.
Airmen from the 673d Logistics Readiness Squadron (LRS) fuels facilities section maintain this and other vital resources for Joint Base Elmendorf-Richardson (JBER).
The fuels facilities section consists of seven Airmen and four civilians who execute and document the receipt, storage and transfer of 14 million gallons of jet fuel, ground fuel, liquid oxygen and de-icing fluid each year.
"This section is critical to the JBER mission as they provide the energy that moves all of our assets," said U.S. Air Force Master Sgt. Joshua Hightower, 673d LRS Fuels Operations section chief. "Their scope of responsibility is vast as they control all aviator breathing oxygen, vehicle and equipment fuel, aviation fuel and de-icer products. Without the proper management of these products, the JBER mission ceases."
The team coordinates daily operator maintenance on assets valued at $302 million, consisting of 10 fuel facilities and 109 fuel pits and outlets that encompass five miles of pipeline throughout the base.
They schedule and coordinate daily fuel deliveries across JBER for Air Mobility Command, Air National Guard, the Army, Transient Alert and 3rd Wing, as well as tenant components.
"You could say we fuel the mission," said U.S. Air Force Tech. Sgt. Eric Fortenberry, 673d LRS fuels facilities section Non-commissioned officer in charge. "We handle any kind of fuel request such as jet fuel – that's our main job."
Along with providing essential products, fuel facilities Airmen are focused on protecting another important asset—people. When they work in cryogenics, the team must adhere to safety guidelines to prevent injury or loss of life.
Handling the liquid oxygen isn't devoid of its fair share of risk. The team creates liquid oxygen by placing air under high pressure. As the pressure increases, the temperature of the air also increases, eventually converting the gas to a liquid that boils off, leaving a pure gas as a result.
"The personal protective equipment we wear is absolutely indispensable and keeps us protected," said U.S. Air Force Senior Airman Brandon Willen-Nelson, 673d LRS facilities technician. "We're handling a substance that can reach dangerously low temperatures around minus 297 Fahrenheit. If anything spills, we're prepared."
Their protective equipment ensures no part of their skin is exposed to the extremely low temperature. Operating in teams of two is an additional safety measure, ensuring each Airmen has a wingman in the event of emergency.
Although serving as a member of the fuels facilities section runs some risk of physical harm, Willen-Nelson said it's all in a day's work and executing his part of the JBER mission is rewarding.
The extensive preparation and discipline of the team keep JBER's vehicles moving and pilots breathing and fulfilling the mission.
Thanks to the 673d Logistics Readiness Squadron fuels facilities team, pilots and aircrew can breathe easier as they provide global expeditionary combat support.